New ASTM Standard for Electric Vehicle Coolants
In the past, you might have noticed we've talked about ASTM standards with respect to testing for battery electric and fuel cell vehicle coolants ... or, rather, that there weren't any, yet.
That has changed.
ASTM, the American Society for Testing and Materials, produces a wide range of testing protocols across many industries. For example, ASTM D1384 is the standard corrosion testing procedure for coolants. The test utilizes a coupon bundle of metals to monitor corrosion by tracking weight loss or weight gain of the coupons when immersed in a coolant solution over time.
The challenge? The standard test utilized metals common to internal combustion engine (ICE) vehicles. If you've read our blog posts in the past, you know that battery electric and fuel cell vehicles contain different metals and, thus, need corrosion inhibition and compatibility for those metals.
This is an issue Dober has been following closely for a long time. In fact, Dober has two member participants to provide technical input and support on the ASTM D15 committee.
But the big news is: ASTM has published new testing standards for battery electric and fuel cell vehicle coolants.
But that's not all: Dober has tested its electric vehicle and fuel cell vehicle coolants using the new ASTM test method.
Before we dive into the results, let's first take a quick look back and the long road to this point.
How Did Dober Tackle This testing Challenge?
As mentioned, without ASTM standards in place, various organizations adopted their own testing procedures, in part fueled by communication with industry. As a result, the Dober team implemented a modified version of the ASTM D1384 test that utilized a different set of metals in the coupon bundle.
(In an article published in Lubes'n'Greases magazine earlier this year, we outlined some of the primary differences between ICE coolants and coolants for battery electric and fuel cell vehicles.)
We tested our Electric Vehicle Super Low Conductivity (EV SLC) and Fuel Cell Ultra Low Conductivity (FC ULC) coolants and the results were clear: when it came to electrical conductivity and corrosion, the two biggest considerations in coolant formulation for these applications, Dober's coolants came in equal or better than the competition.
The modified ASTM D1384 test coupon included copper, 304L and 316L steel, 5052 and 6061 aluminum, and brass.
New ASTM D8485 Electric vehicle coolant testing
All of that brings us to the latest ASTM development in electric vehicle coolant testing: ASTM D8485. The new test method covers glassware corrosion testing for electric vehicle coolants. (ASTM defines "electric vehicles" as battery electric, fuel cell or plug-in hybrid vehicles.)
How does the new standard differ from the traditional D1384 test? Unlike the traditional D1384 test, D8485 is conducted without corrosive water.
In addition, the new test method for electric vehicle coolant testing features just three metals:
Copper
Stainless Steel
Aluminum
However, it should be noted, additional metals may be added to this test by request of a customer or supplier. Furthermore, the user is advised to study the test method closely for any other differences between D1384 and the new D8485 method.
The Dober team tested its FC ULC coolant and EV SLC coolant under the new ASTM D8485 test method, as well as that of another coolant provider on the market. A negative number indicates weight gain, while a positive number indicates weight loss.
The D8485 test method also calls for electrical conductivity at the beginning and end of the test period; however, D8485 does not prescribe limits in this category vis-a-vis percentage changes.
ASTM D8485 Test Results
| | | | | |
| --- | --- | --- | --- | --- |
| | FC Coolant ULC | Competitor | EV SLC Coolant | ASTM Limit |
| Copper C11000 | 0.28 | 1.28 | 0.08 | 10 |
| Stainless Steel S30400 | 0.00 | 0.10 | 0.30 | 10 |
| Aluminum A93003 | -0.58 | -0.33 | -0.53 | 30 |
| Electrical Conductivity (µS/cm) Before | 1.78 | 1.08 | 9.07 | N/A |
| Electrical Conductivity (µS/cm) After | 4.18 | 8.37 | 9.73 | N/A |
| Electrical Conductivity Percentage Change (%) | 134.8% | 675% | 7.3% | N/A |
As the data show:
FC ULC and EV SLC pass the ASTM D8485 test specifications
Both FC ULC and EV SLC show a much lower percentage change over time in electrical conductivity
Furthermore, upon a visual inspection, the metal coupons exposed to FC ULC and EV SLC show less weathering and deposition than that of the competitor coolant coupons. Visual inspection is not included in the D8485 test method guidelines, but offers another avenue by which to assess the coupons after the testing period.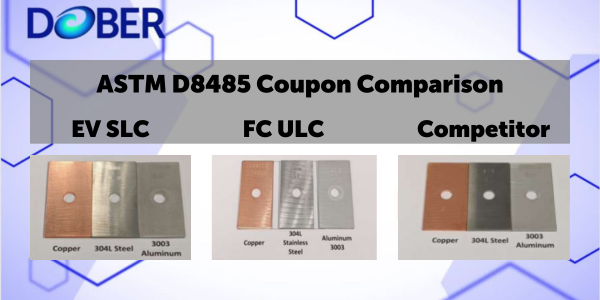 ASTM 8485 Electric Vehicle Coolant Testing Takeaways
To summarize, the key takeaways here are:
There is now an ASTM standard, ASTM D8485, for the testing of electric vehicle coolants (i.e., battery electric, fuel cell and plug-in hybrid). In our conversations with OEMs and other industry players in recent years, the lack of an established standard posed a challenge as they developed cooling strategies for their products.
The new ASTM D8485 test method features just three metals (copper, aluminum and stainless steel) as opposed to six in the traditional D1384 corrosion test.
Dober's Fuel Cell Ultra Low Conductivity coolant and its Electric Vehicle Super Low Conductivity coolant pass the D8485 test and meet the acceptable ASTM limits for corrosion.
Again, visual inspection is not explicitly called for in D8485, but the FC ULC and EV SLC coolants show less darkening than a competitor coolant also tested with the D8485 method.
Lastly, FC ULC and EV SLC exhibit a lower percentage increase in electrical conductivity than the competitor coolant.
Interested in learning more about Dober's new-energy coolants? Visit our FC ULC and EV SLC pages to learn more.