low-conductivity coolant formulated

SPECIFICALLY for fuel cells
NEW ENERGY COOLANTS
ENSURE OPTIMAL PERFORMANCE AND EXTEND THE LONGEVITY OF YOUR FUEL CELL VEHICLES
Long-haul trucks, buses, delivery vehicles and other heavier-duty vehicles will begin to make the switch from diesel to fuel cell technology and hydrogen.
Those vehicles will need a coolant formulated specifically to maintain the fuel cell stack and keep those vehicles going for hundreds of thousands of miles. That coolant needs to offer:
Low electrical conductivity

Good thermal conductivity

Corrosion inhibition

Material compatibility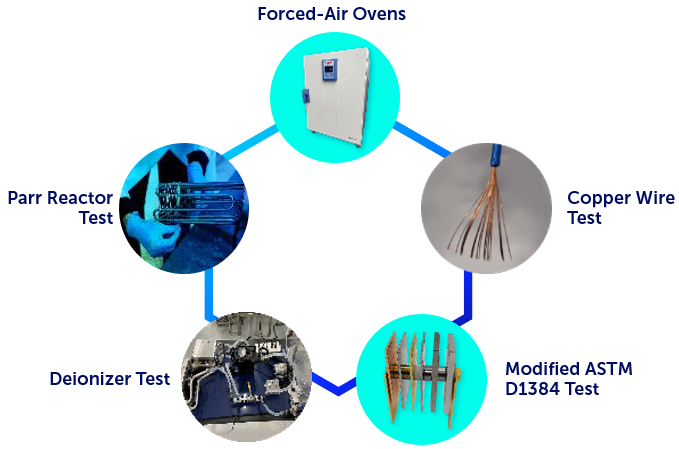 Our coolant's are extensively tested, even as ASTM standards in the space haven't been codified yet.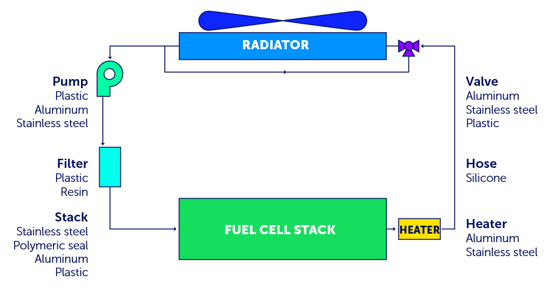 WHY DO FUEL CELL VEHICLES NEED CORROSION INHIBITION TECHNOLOGY?
Fuel cell vehicles, whether long-haul trucks, buses, delivery vehicles or otherwise, need corrosion protection.
Like battery electric vehicles, fuel cell vehicles contain different materials in the fuel cell stack — in simple terms, the engine — than their internal combustion engine predecessors. Furthermore, various fuel cell OEMs might prefer different materials from their competitors. Those materials include stainless steel alloys, aluminum alloys, platinum, polymers and EPDM rubber.
The fuel cell stack is a complicated system that requires corrosion protection, or you risk decreasing the life of the deionizing filter and, potentially, safety hazards.
material compatibility
Fuel cell vehicles need protection of different materials throughout the fuel cell stack (compared with legacy ICE vehicles).
With Dober's material compatibility testing, have peace of mind that your coolant is protecting what it needs to protect. Test your materials with Dober (we might even already have testing data for your materials).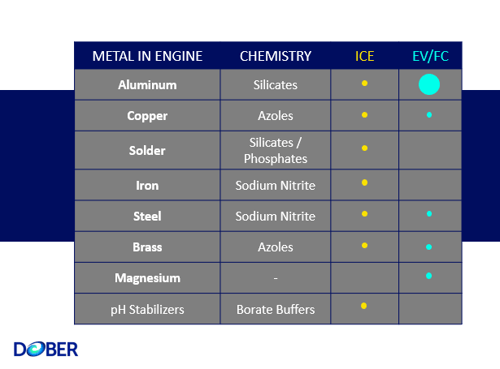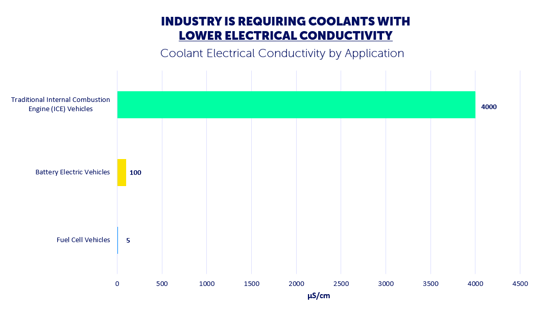 DESIGNED for NEAR-ZERO ELECTRICAL CONDUCTIVITY Fuel cell VEHICLES need
When it comes to electrical conductivity, the specs are even stricter for fuel cell vehicles than they are for electric vehicles.
Legacy ICE engines require coolants to be somewhere in the range of 2,000-4,000 microsiemens per centimeter (μS/cm). Meanwhile, many battery electric manufacturers ask for electrical conductivity well below 100 μS/cm.
But what about fuel cell vehicles?
Fuel cell vehicles will require electrical conductivity of less than 5 microsiemens per centimeter (µ/cm).
A CORROSION PROTECTION PRODUCT LINE DEDICATED TO FUEL CELL VEHICLES
fuel cell Corrosion protection
DOBER'S FC ULC COOLANT VS. THE COMPETITION
Dober FC ULC coolant (Fig. 1) vs. a competitor fuel cell coolant (Fig. 2) coupon tested at:
88° C

For 14 days

Metals tested: Stainless Steel 304, Copper, Brass, Stainless Steel 316L, Aluminum Alloy 6061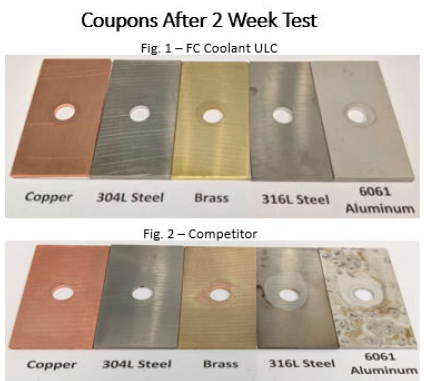 BACKED BY RESEARCH
We test our coolant solutions using a vessel where we heat it up to a high temperature and observe how the coolant ages over time. ​By looking at how well the active ingredients hold up and if the pH and electrical conductivity remain stable during the tests, we're able to optimize the chemistry for better performance.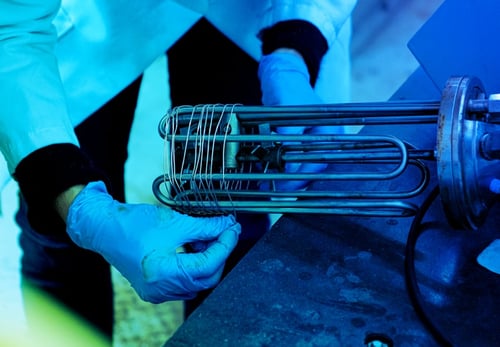 A SCIENCE-first approach to CORROSION TECHNOLOGY







RESEARCH & DEVELOPMENT
Over 60 years ago, our founder preached that the R&D lab was the heartbeat of our organization. And we feel the same to this day. Our history is filled with custom solutions that solve our customers' most difficult dilemmas.
GLOBAL SUPPLY CHAIN
Lower lead times, save money on raw materials and shipping costs, and ensure compliance by leveraging our 7+ blending sites around the world.
HUMAN-CENTRIC SUPPORT
Our support team obsesses over improving the customer experience. So when a problem does arise, we respond quickly and effectively to ensure the problem is solved promptly.
AWARD-WINNING OPERATIONS
As recipients of the NACD 2019 Responsible Distribution Excellence Award, we know a thing or two about operations. From manufacturing to quality assurance, safety, & a robust supply chain, you can rest assured your customers will be well served.
A PARTNERSHIP YOU CAN RELY ON
LOOKING FOR A PARTNER TO HELP DEVELOP A CUSTOM SOLUTION?
Partner with our corrosion technology experts who have decades of experience in developing and delivering coolant additives specifically designed to inhibit scale and corrosion to find the perfect solution for you. ​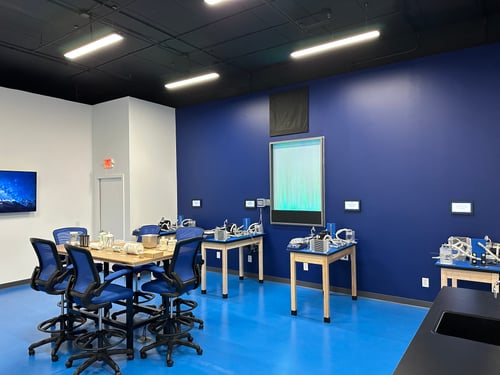 Dober's dedicated Fuel Cell Testing Lab