Private Label Coolant, Antifreeze with Dober
Dober provides the R&D might behind many performance fluids products you might see on the shelf at your local auto shop or big box retailer. We produce both finished coolants for battery electric and fuel cell vehicles (and electrolyzers) and additive packages that blenders can leverage to formulate their own finished private label coolant.
As a result, many of the biggest names in the business have leaned on Dober's R&D might to gain market share and grow their product lines.
Private Label coolants: A Win-Win Proposition
When it comes down to it, private label coolants represent a win-win proposition. If you're looking to expand your performance fluids offerings but don't want to spend on costly R&D and manufacturing, trust a reputable manufacturer like Dober to do the difficult part for you.
In short, we make hard things easy for you — that way, you can focus on selling and growing your brand.
If you're interested in working with Dober to private label a product for your business, reach out to us and we'd be happy to chat.
What is Private Labeling?
Private labeling in automotive performance fluids refers to the practice of manufacturing or sourcing high-quality fluids such as engine oil, transmission fluid, brake fluid, and coolant, and then marketing and selling them under a different brand name or label. In this concept, a company or individual essentially acts as a middleman, leveraging their brand and marketing efforts to sell products that are manufactured by a third-party.
Private labeling offers several advantages for businesses in the automotive performance fluid industry. First and foremost, it allows companies to establish their own brand identity and differentiate themselves in the market. By creating a unique brand name, logo, and packaging, they can build brand recognition and loyalty among consumers.
Additionally, private labeling provides flexibility in product offerings. Companies can choose from a range of fluid formulations, selecting those that align with their desired quality standards and performance specifications. They can also tailor the products to meet the specific needs and preferences of their target customers.
One of the main benefits of private labeling is the potential for increased profit margins. By eliminating the costs associated with research, development, and manufacturing, companies can focus on marketing, distribution, and customer support. This allows them to achieve higher profitability compared to developing and manufacturing their own fluids.
Private labeling also offers businesses the opportunity to enter the market quickly and efficiently. Instead of investing significant time and resources in developing a new product from scratch, they can leverage existing formulations and production capabilities. This enables them to capitalize on market demand and establish a presence without extensive lead times.
Dober is the World's Largest Coolant Additives Manufacturer
First, a number: Dober's coolant additives treat over 60 million gallons of coolant per year.
Below you can see the list of companies that have trusted Dober over the years and whose coolants are powered by Dober technology.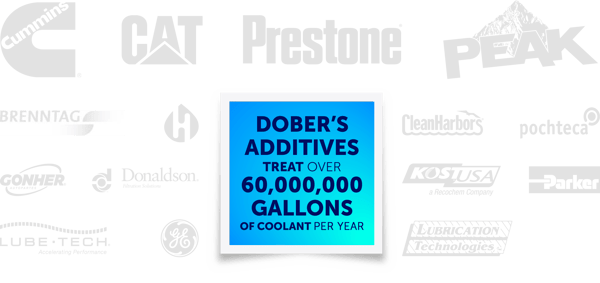 Building Trust Through Credentials, Performance
Founded in 1957, Dober has built trust with its partners by doing things the right way, from R&D to quality to customer service.
Dober is:
Global Supply Chain
No matter where you are, we can do business with you.
Dober has 12 manufacturing locations around the world (eight with blending capabilities): let our supply chain be your supply chain.

Wide Range of Product Offerings
Whether you're looking for conventional coolant additives, organic acid technology (OAT) or hybrid organic acid technology (HOAT), we have what you need.
Download our product catalog to learn more about how our R&D can supercharge your product lineup.
Quality Promise
Dober products go through a stringent quality management system to ensure the safety, performance and overall quality of our products.
Our three quality control (QC) labs in the U.S. work together to achieve that goal on a consistent basis, and our quality assurance teams is based in Woodridge, Illinois. The team regularly undergoes third-party and internal trainings to ensure knowledge and understanding of ISO standards.
In addition to trainings, we also undergo regular on-site and paper audits.
Dober's quality policy strives to:
Provide our customers with consistently high-quality, controlled-formulation

products.

​

Control the quality of our raw materials, assure the consistency of our

manufacturing and packaging processes and verify the quality of each lot of

finished goods.

​

Demonstrate our consistent quality to our customers through our Certificate of

Analysis.

​

Act with integrity and communicate honestly with our customers.

​

Use our expertise in the science of formulating and specialty packaging to ensure a

quality product.

​

Continually improve our quality system to provide efficient and effective

processes.

​
Just like our R&D and our supply chain, when you private label with Dober, our quality is your quality.
Want to Learn More About Private Labeling with Dober?
Over the decades, Dober has developed a reputation of quality and gained the trust of quite a few major brands in the process. If you're looking to private label, you have to do your due diligence. You need to be certain your supplier provides what it says it will provide and is accountable to all relevant quality standards.
After all, if a product will have your company's name on the label, you have to make sure it works as it should. Nothing is more valuable to a company than its brand's quality reputation; private labeling can be problematic if you partner with a company that doesn't have a robust quality management system in place.
We strive to make the process as easy as possible and address any common private labeling concerns by virtue of our:
R&D prowess
Global supply chain
Top-notch quality team
Want to learn more about private label coolants and how Dober can take your product lineup to the next level? Let's chat.