How Dober Works to Weather Supply Chain Challenges
Events of Mother Nature (hurricanes, tornadoes, ice storms, fires, etc.), a global pandemic, war and unrest — you name it, if any of these events happened alone it could be devastating to an industry.
What was previously unthinkable is now our reality. We are living through multiple years of all these events occurring simultaneously, which has downright crippled the global supply chain.
Global Supply Chain Challenges on the Rise
Lockdowns forced the world out of their workplaces, causing major industries to shut down for weeks or months at a time. To keep people safe, when staff were eventually brought back, it typically was in limited numbers. Extra precautions also led to slower turnaround times and lack of people to do the jobs.
There are delays, shortages, force majeures and transportation backlogs in most areas of the economy. These days, it's hard to get away from any of that. In fact, when you find something is in stock, it's a treat.
Now, here in the United States, we are faced with soaring prices as demand remains high and inventory remains low. There has been a ripple effect with the global supply chain being so intertwined.
What is Dober Doing to Weather the Storm?
What is a company like Dober doing to survive these times of supply chain challenges? Everything we can!
To help weather the storm of supply chain challenges, we are: communicating, forecasting, planning, buying, shipping
pivoting and innovating.
Managing the current climate of supply chain challenges continues to be a daily game of chess. Our nimbleness has been our greatest attribute to our continued success.
More specifically, we are:
Communicating more with our partners and vendors.
Requesting forecasts on a regular basis from our distributors and customers to better assist us with planning and scheduling.
Watching trends in the market, buying raw materials and supplies, and getting creative with shipping and freight options.
Working with our global partners and global distributors to procure raw materials and supplies from our sources in different parts of the world, even air freighting items to meet demands.
Dober's Global Supply Chain presence
Keeping our customers operational is paramount. Dober has manufacturing and warehousing locations in different global regions, allowing us flexibility during these times of supply chain challenges. That has also allowed us to keep any price increases to a minimum while still providing the high level of product and services our customers expect.
We have built our international supply chain into a core competency (you can see a map of our distribution sites below). The benefits of this include a lifetime guarantee of product availability, regulatory compliance and shorter lead times.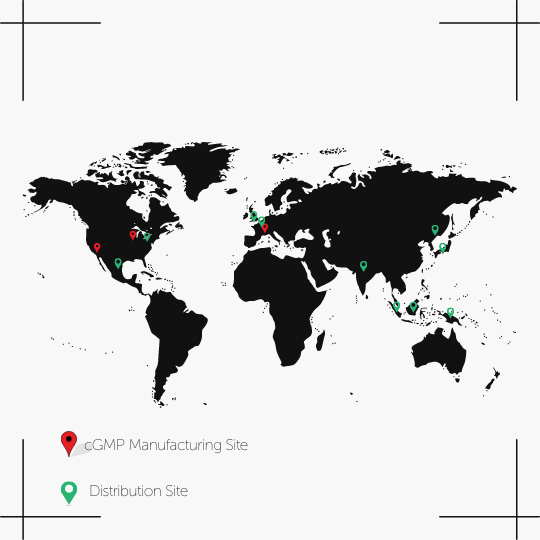 We also offer significant expertise and certifications:
Logistics expertise for shipping chemicals and customs clearance in over 40 countries (including hazardous chemistries)
Responsible Distribution Certified by the National Association of Chemical Distributors (NACD)
REACH compliant with cGMP blending in Woodridge, Illinois, USA, and Vienna, Austria, with Santa Fe Springs, California, USA coming soon
Dober Chematic supplies cleaning agents to critical markets such as pharmaceutical, nutraceutical, and personal care. We understand the vital role our continuity of supply plays in their supply chain. This is something we do not take lightly.
If you want to learn more about how Dober's Chematic team can help your team, reach out to us and we'll be happy to discuss the best options for your operation.