A MULTI-PURPOSE INDUSTRIAL CLEANER THAT IS

SIMPLY BETTER®
Spend less time cleaning with our water-based cleaner & degreaser that is safe to handle, NSF certified, and has no chemical dyes or fragrances.
Simplify your operations with a single MULTI-PURPOSE CLEANER
Easily clean a wide range of surfaces and residues that ultimately saves your team time.
Eliminate the necessity of purchasing multiple cleaners for different areas around your plant. Simply Better® was designed to easily and effectively clean a wide range of surfaces and residues that are most common around your plant. Its versatility makes it an easy choice for all routine cleaning.
Easily cuts through grease, grime, oily soils, and waxy residues, as well as effective on your hard to clean surfaces:
- Tile or Concrete
- Floors & Walls
- Plastics & Vinyls
- Engine Bays & Wheels
- Stainless Steel
- Work Surfaces & Tools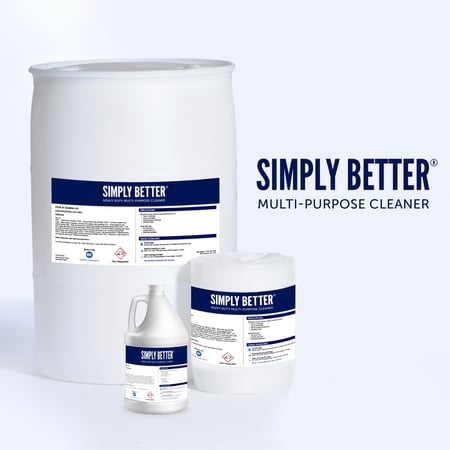 why COMPANIES CHOOSE DOBER?
For over 30 years, Dober has been developing and manufacturing unique detergents for regulated industries. Our expertise is derived from our talented team whose passion for cleaning truly amazes our customers. Over 3,000 customers across 40+ countries rely on our technology and supply chain during the current crisis to keep the world running.
Learn More About Chematic, proud to be apart of the Dober Brand >