GET RID OF CLUTTER IN YOUR MECHANICAL ROOM. GO SOLID. GO CLEAN.
OPT FOR ADVANCED COOLING TOWER WATER TREATMENT CHEMISTRY: CLEANER AND SMARTER CONSTRUCTION THAN TRADITIONAL LIQUID CHEMISTRY
Do your client's mechanical rooms feel like a cluttered mess of hazardous buckets of chemicals, tubes and pumps? What if you could do away with all the clutter and safety risks with a more simple, safe and reliable water treatment option?
Traditional liquid water treatment chemistry not only entails hauling the heavy and unwieldy containers across client premises, but it also means taking up an immense amount of space installing and setting up these bulky and cumbersome units. Containers filled with dangerous chemicals just sit out there leading to the unnecessary risk associated with liquid water treatment.
Smart Release Technology or SRT uses solid pellets instead of liquid water treatment systems. They are encased in a smart and simple PVC construction that look neat and modern and remain as good as new for years. Your clients will appreciate how organized their mechanical rooms feel. An organized mechanical room extends to the feeling that there needs are well taken care of.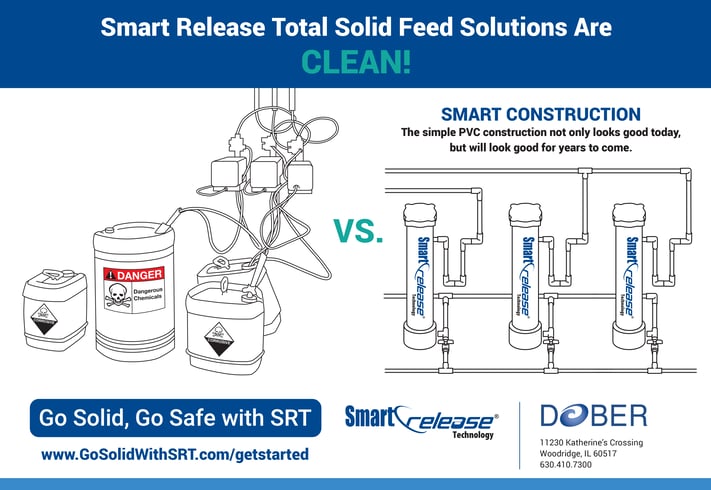 Why opt for Smart Release Technology?
Advanced water treatment solutions for cooling towers can directly affect efficiency and reliability along with the cost of industrial, power and other related industry process. To attain optimum Total Cost of Operation (TCO) one needs to select an appropriate treatment program that would help monitor and maintain microbial growth, corrosion and deposition with ease.
A quick look at the benefits of Smart Release Technology:
It is a safer and less hazardous way to treat water
Smarter, cleaner and neater construction
Use less space, deliver better results
Lighter loads of treatment chemistry are easy to carry without risks of spills and accidents
Simple and quick to install so reduces project turnaround time
Eliminates the hazardous risks associated with liquid spills
Proven chemistries that are validated with proven applications
Do you want to learn more about the clean Smart Release Technology?
Contact us to learn more and start providing Simple, Safer, Cleaner and more Reliable Water Treatment Chemistries to your Cooling Towers.