COOLING TOWER WATER TREATMENT CHEMICALS
corrosion and scale inhibitors
Smart Release Technology tablets provide consistent, controlled protection against harmful corrosion and scale.
FIGHT HARMFUL CORROSION AND SCALE IN YOUR SYSTEM
You need to mitigate corrosion and scale to keep your cooling tower system running smoothly and efficiently.
Scale and corrosion negatively impact your system's heat transfer capabilities and can promote microbial growth.
With Dober's tablet technology, your system can combat harmful scale and corrosion and ultimately help save you time, money and storage space.
Depending on your specific needs, take a look at our technical data sheets (TDS) at the bottom of this page for more information about our corrosion and scale inhibitor tablet offerings.
If you have questions about which corrosion and scale tablet might be the right one for you, reach out to a Smart Release expert.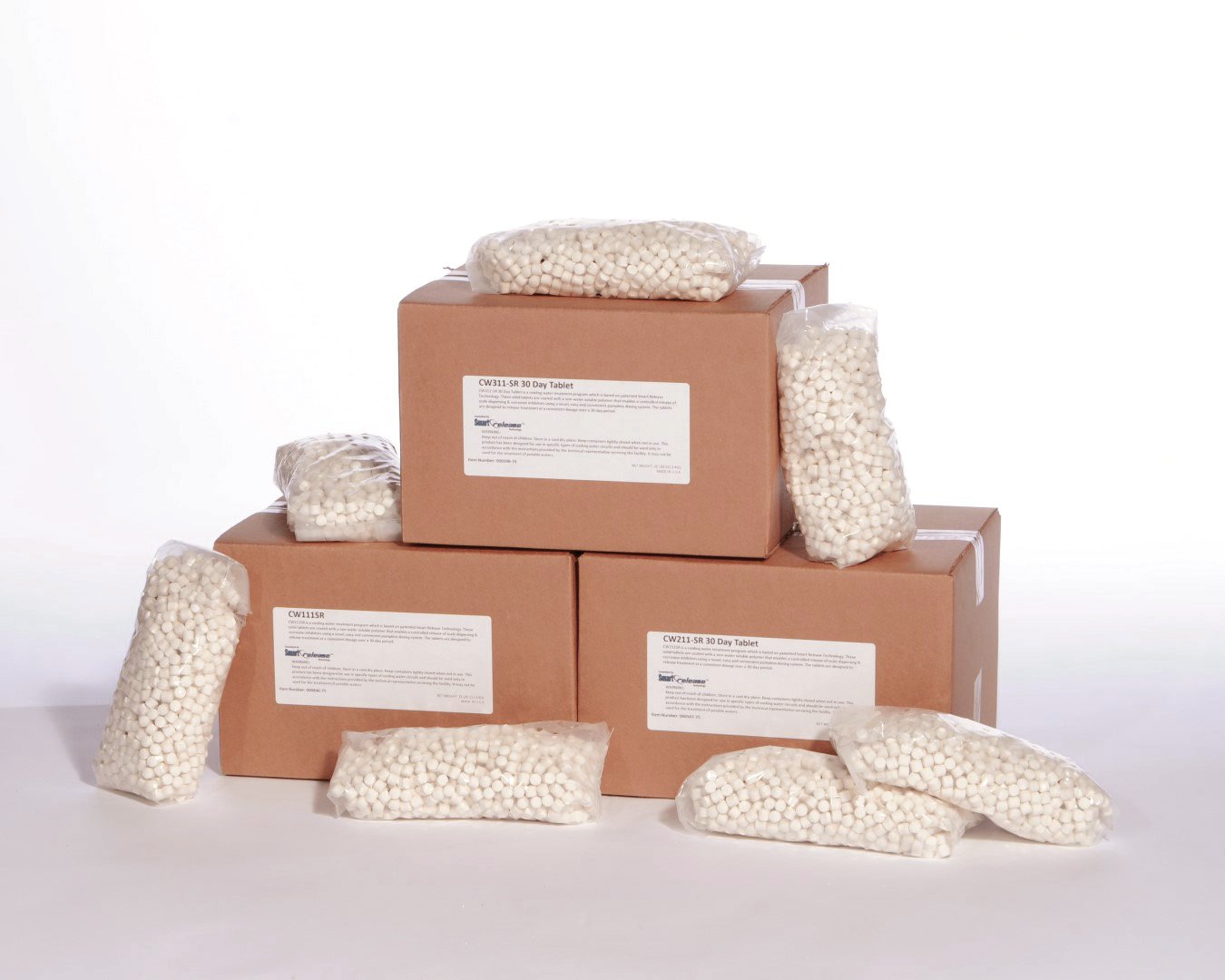 corrosion and scale inhibitors
Options for Your System
Smart Release Technology corrosion and scale inhibitors protect your system under a variety of conditions (technical data sheets available at the bottom of this page).
| | | | |
| --- | --- | --- | --- |
| PRODUCT | DESCRIPTION | USEd for | application |
| CW311-SR | Broad spectrum corrosion and scale inhibitor | Ideal for high LSI applications (can be used for low LSI applications) and for use in cooling towers, evaporative condensers and fluid coolers | 2 1/2 pound bag treats 12,500 gallons of blowdown for 30 days |
| CW211-SR | Broad spectrum corrosion and scale inhibitor | For low-medium hardness and alkalinity | 2 1/2 pound bag treats 12,500 gallons of blowdown for 30 days |
| CW350-SR | Broad spectrum corrosion and scale inhibitor | For high calcium/LSI water systems with potential for calcium HEDP deposits | 2 1/2 pound bag treats 12,500 gallons of blowdown for 30 days |
| CW42-SR | Azole product providing supplemental yellow metal corrosion inhibitor | Designed to supplement the main corrosion and scale inhibitor in open recirculating systems that contain copper or copper alloys | 2 1/2 pound bag treats 50,000 gallons of blowdown for 7-15 days |
SOLID BENEFITS
With Smart Release Technology's corrosion and scale tablet technologies, you can:
Avoid the hassle of drum or pail disposal
Improve safety (tablet coating prevents potential direct contact with chemicals, unlike liquids)
Rely on proven chemistry
Minimize maintenance costs
Tablet technical data sheets