SMART RELEASE
™
BIO-CLEAR & BromiCide
Smart Release
Bio-Clear (DBNPA) and BromiCide (BCDMH) provide protection against microbiological fouling, keeping your system clean, safe and running effectively.
DON'T WAIT: TAKE THE FIGHT TO MICROBIOLOGICAL GROWTH
Microbiological fouling is one of the many challenges property managers face when treating their cooling tower systems.
The warm, wet environment of the cooling tower system provides a welcoming environment for potential microbiological growth. That means algae, bacteria, fungi and other potential contaminants.
What could that mean for your system?
Increased corrosion
Reduced heat-transfer capacity
Potential equipment failures
Illness (e.g., Legionnaires' disease) from the spread of microbiological material via inhalation of contaminated aerosols
If you have questions about which corrosion and scale tablet might be the right one for you, reach out to a Smart Release expert. If you want to learn more about cooling tower biocides, visit our helpful explainer page.
biocides in smart Release generation 2
The graphic below showcases the

Smart Release Generation 2

feeder system and where you'll find both the oxidizing and non-oxidizing biocides.
BromiCide tablets go into feeder No. 1 pictured below.
Smart Release Bio-Clear services feeder No. 2.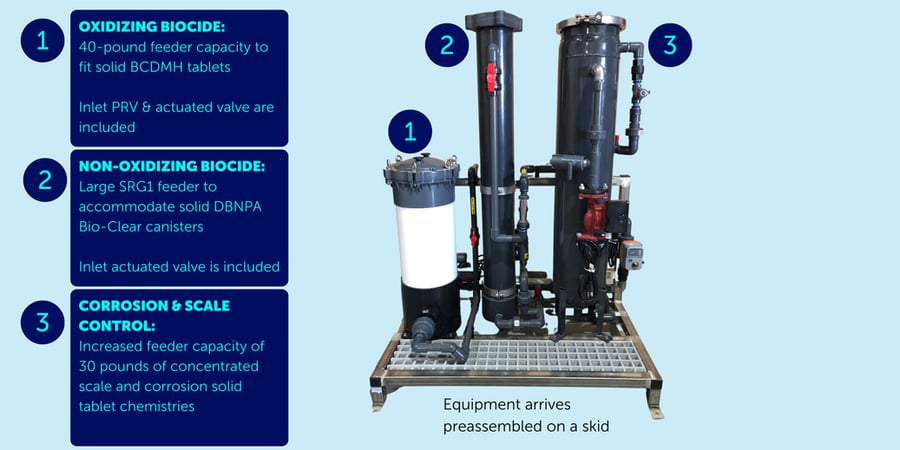 Non-oxidizing biocide: smart release Bio-clear
Smart Release Bio-Clear offers a safe, effective non-oxidizing biocide for your cooling tower application.
Smart Release Bio-Clear is delivered through a Smart Release membrane canister and is ideal for open circulating systems.
With Smart Release Bio-Clear, you can set aside the traditional headaches that come with a liquid program, like pail and drum disposal, not to mention harmful chemical spills or leaks.
On top of all that, you get a broad spectrum kill that executes a quick kill at a low dosage.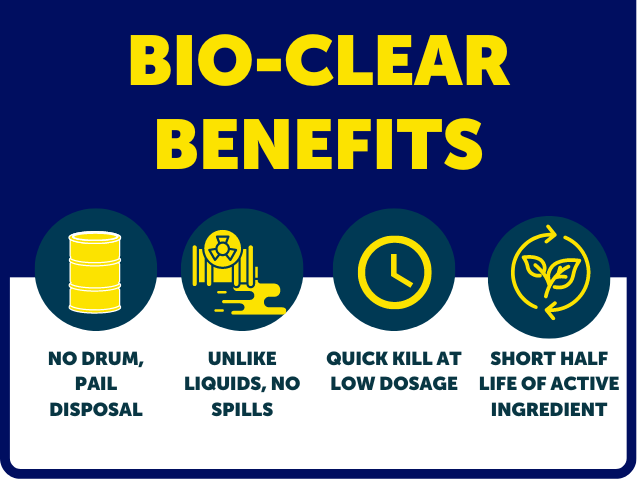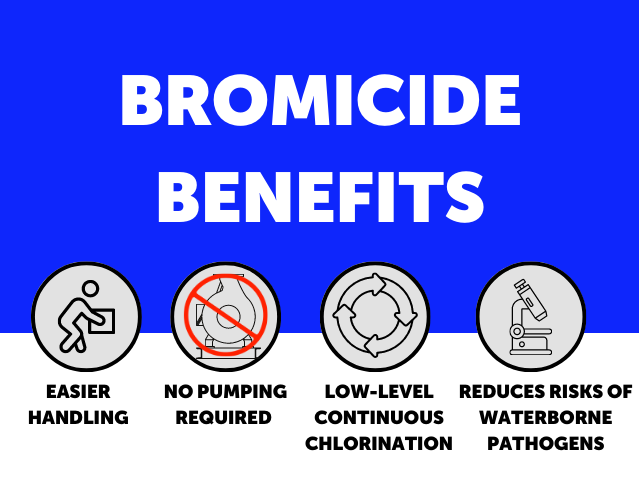 oxidizing biocide: Bromicide
BromiCide

tablets are designed for open recirculating systems and industrial process waters.
The 1-inch BromiCide tablets provide a broad spectrum kill against algae, bacteria and fungi and help reduce the risk of waterborne pathogens, like Legionella.
SOLID BENEFITS
With Smart Release Bio-Clear and BromiCide, you can enjoy biocides delivered in the form of a solid — and all the benefits that entails:
Avoid the hassle of drum and pail disposal
Improve safety (tablet coating reduces potential direct contact with chemicals, unlike liquids)
Rely on proven chemistry
Have broad spectrum kill for bacteria, algae and fungi
Minimize maintenance costs
biocides technical data sheets