ELIMINATE CHEMICAL HAZARDS FOR YOUR CLIENTS AT HARD-TO-REACH COOLING TOWER SITES
COOLING TOWER WATER TREATMENT CHEMISTRY, WHICH IS SAFER AND MORE SIMPLE THAN TRADITIONAL LIQUID CHEMISTRY OPTIONS
Effective water treatment for cooling towers can directly affect reliability, efficiency, and cost of any industrial, institutional, or power industry process. Monitoring and maintaining corrosion control and deposition, microbial growth, and efficient system operation are important for optimum Total Cost of Operation (TCO). The first step to achieving minimum TCO is selecting an appropriate treatment program and operating conditions to minimize system stresses.
Beyond these usual considerations, what about the needless worry of hazardous chemical spills from traditional liquid water treatment chemistry?
What if you could offer a safer and less hazardous way to treat
water, especially in
those hard-
to
-reach locations?
Let's say that hotels form a big portion of your clientele. The chances are high that you have to access to hard-to-reach cooling towers all the time. If you are using the traditional liquid water treatment chemistry, then your team is probably hauling the heavy and unwieldy containers across the lobbies and building every day. This means risks of hazardous chemicals spilling and splashing in public space, jeopardizing public and employee health.
Customers prefer solutions that get the work done quietly, efficiently and eliminate the risks that can harm their guests or staff. Now it's possible to deliver all these and more when you go solid!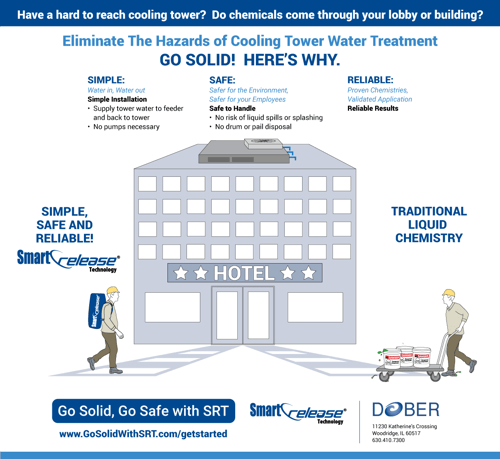 What does going solid mean?
It means doing away with the unnecessary risks associated with liquid water treatment.
It means opting for the advanced Smart Release Technology or SRT that uses solid pellets instead of liquid water treatment systems. Your team can carry these lighter loads easily and install them in no time without risks of spills and accidents. Get rid of redundancies in the process, speed up efficiency and performance, eliminate hazardous risks associated with liquid spills and enjoy better ROI.
How does it work?
Best-in-class cooling tower water treatment technologies like Smart Release Technology® offer proven chemistries and validated applications to tackle typical water treatment issues. Lighter and easier to use, this cost-effective technology will provide reliable and safe results, better performance and ROI as well.
Why Smart Release Technology?
It

'

s Simple

:

Simple yet brilliant water tablets technology that needs

no pumps

and leaves only a small equipment footprint. Reduce project time,

improve

project efficiency.

Simple yet brilliant water tablets technology that needs

no pumps and leaves

only a small equipment footprint. Reduce project time, improve p

roject

efficiency

Quick and easy installation: Water in and ou

t

- Supply tower water to the feeder

and back to tower. Deploy leaner teams and enjoy better ROI.
Safer: It

'

s safer for the environment and safer for employees too. No risk of spills

and splashes of hazardous liquid chemicals. Improve operator

safety and add to

your client

'

s LEED points.

It's reliable: Offers proven chemistries that are validated with

proven

applications and reliable result every time. Get more for less a

nd ensure

competitive costs.
Do you want to learn more about Smart Release Technology?
Contact us to learn more and start providing Simple, Safer and more Reliable Water Treatment Chemistries to your Cooling Towers.