LIQUIDS VS. SOLIDS
We've reviewed the basics of cooling towers and cooling tower water treatment: what a cooling tower does, why you need a robust cooling tower water treatment program and some of the basic key terms and metrics to consider when implementing such a program.
But what about the chemicals you're feeding into your system?
Like most consumer scenarios, there are options to consider. The main options are liquid versus solid chemistries for cooling tower water treatment.
Liquid Chemistries
All-liquid cooling water programs have been prominent in the cooling tower water treatment industry for years, given it has been the norm for professional water treaters and customers alike.
As with any industry, change can be something many managers might not want to consider. "If something is working just fine, for the most part, why change it?" a property manager might say (or, more colloquially, "if it ain't broke, don't fix it").
That is an understandable perspective, as there can be costs associated with changing any process. In general, liquid chemicals do work effectively in the context of cooling tower water treatment.
Furthermore, with a liquid program, cooling tower engineers can have control of their chemical delivery. That means not having to deliver chemicals at all times, but rather only when the system requires additional treatment.
Solid Chemistries
As noted, there is a solid-based alternative to the aforementioned liquid option.
While solid-based cooling tower water treatment programs are not currently as widespread as liquid programs, they are becoming increasingly popular.
Here's a quick video showcasing how Dober's solid-based chemicals work:
So what are some benefits of the alternative for cooling tower water treatment?
Safety
Solid programs are generally safer for personnel. With solids, personnel have reduced exposure to harmful chemicals (as compared with liquids). Furthermore, solid chemistries are easier to transport on-site by personnel. To put it in perspective, one box of Smart Release Technology is equivalent to two five-gallon pails of liquid chemicals. That means fewer injuries related to moving pails and drums, not to mention potentially even more serious injuries associated with direct exposure to liquid chemicals.
NO SPILLS, LEAKS
Users don't have to worry about the spills and leaks that can happen with liquid programs.
more Environmentally Friendly
Unlike liquids, Smart Release Technology tablets can be disposed of in regular trash pickup. Meanwhile, liquid pails and drums need to be triple rinsed before disposal (of course, local regulations can vary, so users should always check to make sure they are complying with regulations associated with chemical disposal).
In addition, you will generate a smaller carbon footprint with solid-based chemistries in a number of ways. The chart below outlines some of those CO2 differences:
Data source: Mosher, Steve. Environmental Aspects of Controlled-Release Chemistry in Cooling Towers. [White Paper]. Smart Release Technology.
NO CHEMICAL METERING PUMPS
With Smart Release Technology's solid-based cooling tower water treatment solution, users don't have to worry about managing chemical metering pumps.
Easier Storage
Unlike liquid chemicals, Smart Release Technology's solid-based chemistries do not require special containment.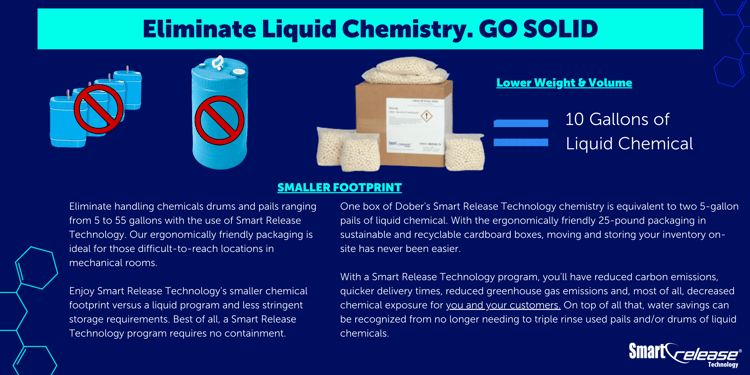 At the end of the day, each cooling tower is different. In turn, each cooling tower water treatment program will be different and adjusted for the site's specific conditions, water content, cost, the treatment team's personal preferences and history, and a number of other factors.
While a liquid program might ultimately suit a site better at a given time, a solid program might be the preference of another site.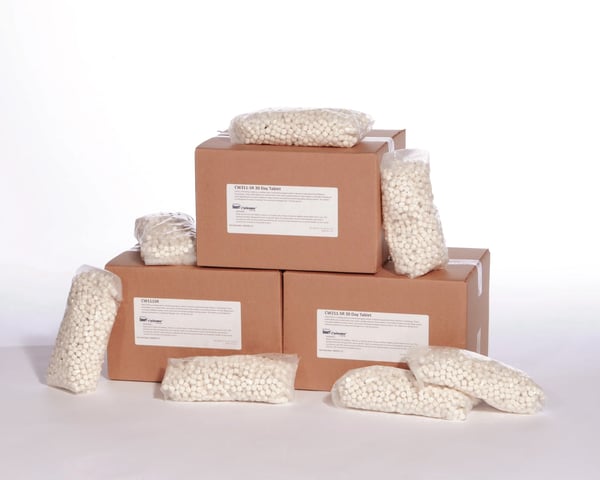 With that said, there are important differences between the two program types, as laid out above.
If you've gotten this far, thank you for your time and dedication. Maybe you're a cooling tower water treatment industry professional and are looking to explore your options toward the goal of getting the most out of your treatment program. Or, maybe you're an executive at a site with significant cooling tower applications and want to explore other options for your school building, data center, hotel, etc.
We get it: there are always efficiencies out there waiting to be gained. You just have to know where to find them.
Here at Dober, we're passionate about Smart Release Technology and solid-based treatment solutions. We believe that our combination of solid chemistries and innovative equipment gives you the best of both worlds: the liquid benefits you might already be used to (e.g., control of chemical delivery) and the benefits associated with solids, like safety, lower carbon footprint, easier handling and storage, and much more.
We have continued to innovate, most recently with Smart Release Generation 2 (you can check out our latest case studies, which outline how one traditional Smart Release customer got extended tablet life with their system, while another harnessed the power of daily reporting to reduce microbiological fouling).
Interested in learning more? We're waiting to hear from you.
Reach out to us and a Smart Release Technology expert will be happy to walk you through the benefits of a solid-based cooling tower water treatment program.