Jar Testing: Comparing 6 Gang Mixers on the Market
So, you're conducting some jar testing and want to get your own gang mixer. Gang mixers are an integral part of jar testing and are incredibly useful in a laboratory setting.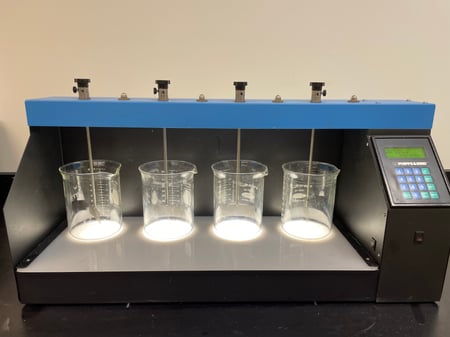 But which is the best one for your setup?
Which one works best?
What are some low-cost options?
Furthermore, which one do you actually need?
Dober's water treatment lab has a variety of gang mixers — you can see one example to the right — and is here to help you make a decision that will fit your needs.
This article will highlight the pros and cons of a variety of gang mixers found online.
Phipps & Bird 7790-910 Steel Jar Tester-Lab Stirrer, Programmable 6-Paddle with Illuminated Base
Pros
This mixer is a great choice if you are a frequent jar tester.
This model has six stations to allow you to have six samples going at once. The square jars are included. Furthermore, the jars have valves on the bottom so you can pull water out.
The valves at the bottom are a great addition to this particular model because they allow you to pull water from the jars without taking the entire jar off of the mixer.
Cons
Some downsides to this mixer are its size, speed and price.
This mixer has six stations. As a bigger gang mixer, it needs some space.
The mixer is also heavy, weighing 61 pounds.
This mixer can also only go up to 300 RPM. While we typically do not go above 300 RPM when conducting jar tests, it is always good to have the ability to go higher in case you receive a waste stream that needs more vigorous mixing.
Price
This is also one of the more costly gang mixers, sitting at almost $5,000.
Overview
This jar mixer model is great for everyday jar testing. This model is not convenient for portable testing. However, it has six stations, so it's great for large-scale testing. If you are willing to pay the cost, then this jar mixer is a great long-term option.
SCILOGEX SCI340-4 Digital Hotplate-Stirrer 4-Channel
Pros
This mixer is a great choice for small-scale testing.
Instead of using paddles, like the previous model we looked at, this model uses stir plates.
This product comes with a heating and a stirring option (so if you need to heat the water, you can do that).
The speed on this mixer goes up to 1,500 RPM, giving it a large range of speed.
This model can mix up to 10 liters.
It is also chemical resistant.
Lastly, it has a heat safety feature.
Cons
This mixer only has four stir plates, so you can only test four samples at once.
You need to buy your own stir bars.
It needs to be plugged in, so while it looks like it would be portable, it does need a plug-in.
Price
This mixer is reasonably priced, sitting at $1,500.
Overview
For small-scale testing, this is a good mixer option. This is not the traditional jar mixer, but it still serves the same purpose. You will have to buy some extra accessories to go with this setup, such as magnetic stir bars. The heating option is also a nice feature on this model, as is the ability to hold up to 10 liters.
Fristaden Lab Digital Overhead Stirrer
Pros
This mixer is lightweight (about 20 pounds).
It's good for making emulsions and mixing large batches. This product would be great for making oil emulsions or when you need to stir a large batch of some liquid.
It offers speeds up to 2,000 RPM.
This model can mix up to 20 liters.
It also has a low noise level.
The mixer has an LCD display.
Lastly, it comes with a one-year warranty
Cons
Not ideal for jar testing, as it only has one blade.
If you need more blades, you need to buy directly from the company.
Price
Very reasonably priced at
$250.
Overview
This mixer is not for jar testing, but it is great for making emulsions or stirring large batches of water. It is also reasonably priced.
FP4, 4 Station Portable Flocculation Tester, 120/240VAC, Velp Scientific
Pros
This mixer is lightweight and portable/
Great for demonstrations.
360 view of the beakers.
Powered by battery or car charger.
Has a timer.
Has an optional carrying case that you can buy separately.
Cons
Only has five speeds (20-200 RPM).
Only has four spots for jars.
All spots stir at the same speed.
There are no barriers or walls, so the sample could splash.
Price
These are very popular; this one is reasonably priced at $1,531.
Overview
This reasonably prices jar mixer is great for those who are on the go. Dober uses this jar mixer at trade shows to showcase our jar testing capabilities, and we get questions about it all the time.
Lovibond® ET 750, 6 Station Laboratory Floc Tester
Pros
This mixer has six spots for simultaneous jar testing.
Timer options.
Illuminated back panel.
Speed from 30-300 RPM.
Height adjustment option for stirring blades.
Cons
Only spins up to 300 RPM
No light underneath spot where beakers sit, meaning it could be hard to look through the sample.
Price
$2,664.92
Overview
Overall, this jar mixer is a great option because it is on the lower end of the price side but still has good quality and features. If you don't require a lot of speed for your testing and don't need a full LED display, then this mixer should work well for your jar testing needs.
Have a question about jar testing, gang mixers or maybe Dober's offerings? Drop us a line, we'd love to hear from you.