Dober and Lygos Partner to Support Growing Demand for Soltellus™
Lygos, Inc., a sustainable specialty chemicals company, and Dober, a specialty chemical manufacturer, announced today the signing of a collaboration to increase the commercial supply of Soltellus, a sustainable, biodegradable, and water-soluble polymer with applications in home care, agronomy, and water treatment.
The partnership encompasses a supply agreement and co-investment to expand the production capacity of Soltellus. The companies will also undertake advanced development projects to enable the production of future Soltellus derivatives, developing products with improved performance and functionality for new markets and applications. Dober's Hazleton, PA facility will house the expanded operations and complement the existing capacity in its Woodridge, IL headquarters.
"Dober's experience with the production technology and state-of-the-art manufacturing facilities make them the perfect partner for us to manufacture Soltellus," said Rich Weber, Chief Business Officer for Lygos. "This partnership will also help accelerate the introduction of new innovative Soltellus product line extensions to meet the increasing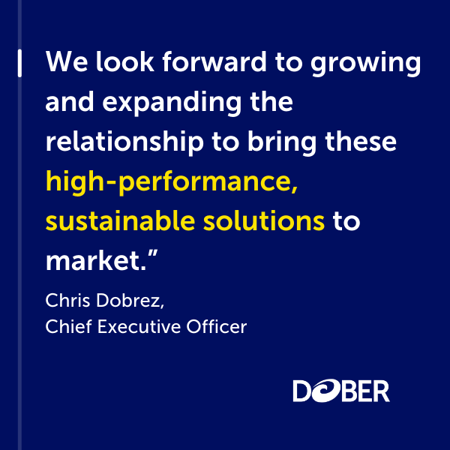 demand from our customers."
"Lygos is a fantastic go-to-market partner for this collaboration," said Chris Dobrez, Chief Executive Officer of Dober. "Our expanded facility will provide enough production capacity to meet customer demand now and into the future. We look forward to growing and expanding the relationship to bring these high-performance, sustainable solutions to market."
Soltellus is available now at www.lygos.com.
About Dober
Dober, founded in 1957, is a specialty chemical company that creates sustainable solutions to help businesses thrive. Dober's vast expertise includes water treatment, detergents, cooling tower treatment, performance fluids, and operations management software. Powered by creativity and an innovative spirit, we are always working toward better, safer solutions for some of the world's most critical applications.
Learn more about our impactful work at www.dober.com.
About Lygos
Lygos is a pioneering sustainable specialty chemicals company, leading the world's transition toward better, cleaner, and more sustainable products. We have built a proprietary and fully integrated platform of the most advanced technologies across synthetic biology, industrial chemistry, and application development to rapidly deliver market relevant solutions to some of the world's biggest sustainability challenges. With a pipeline of high-performing, innovative solutions, Lygos is paving the way for generations of new sustainable solutions for our world.
For more information, visit www.lygos.com