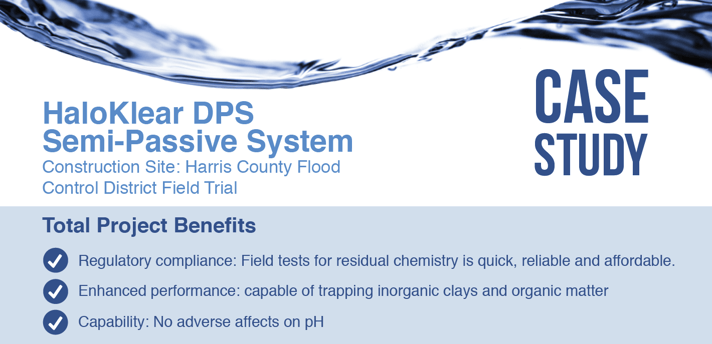 The Summary:
HaloKlear had the honor of working with the Harris County Flood Control District in their efforts to understand the implications and develop the tools needed to meet the Effluent Limitation Guidelines (ELGs) from the EPA. Additionally, we aimed to show that the HaloKlear Dual Product System (DPS) can reduce turbidity using economically acceptable deployment models and because of safety factors included in the design show that the natural flocculants are not present in the effluent water. The field test for residual needs to be quick, reliable and affordable.
Photo 1 shows an overview of the simple BMP layout which incorporates traditional wattle check dams and matting for energy dissipation and prevent scouring. With the added benefit of enhancing performance with the DPS, the traditional BMP can now trap inorganic clays and organic matter that un-enhanced BMP cannot. Photo 2 shows the natural flocculant manifold which water is pumped through on its way to the treatment ditch.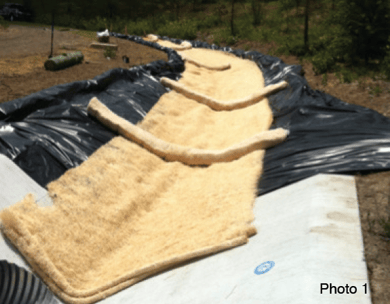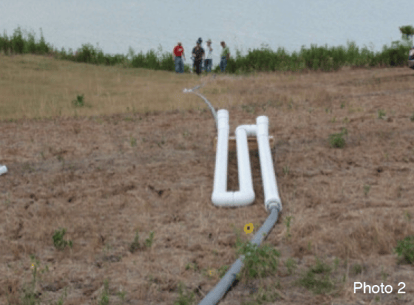 The DPS semi-passive system can be deployed quickly, effectively and with reasonable cost for set up and operation. The results can be verified by the engineers, contractors, regulators or by the general public. Incorporating field residual testing is non-burdensome, quick and highly inexpensive compared to other options. The inclusion of residual testing provides the tools necessary to document that the natural flocculants are not going to cause harm in the environment because they are removed along with the sediment in the BMP. Using 100% biodegradable material ensures no bioaccumulation.

The data speaks for itself: consistent turbidity reduction, no adverse affects on pH and other beneficial control.
View the FULL, printable case study, including all data and graphs, here: