Natural Flocculant Enhanced Filtration for Sediment Removal
In August 2015, ProAct mobilized the first of several solids removal systems (SRS) to Sullivan County, New York, the home of the $1.2-billion Resorts World Catskills property. ProAct's mobile SRS units and HaloKlear's Natural Flocculants were used to meet strict turbidity requirements of below 50 NTU for dewatering activities necessary on this 1,700-acre site.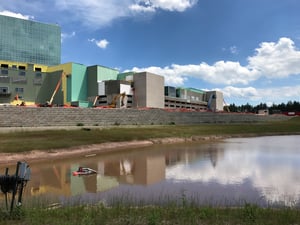 Each treatment system mobilized to the site consisted of mobile trailer- contained systems capable of treating flows up to 300 and 500 gpm as needed to address water accumulation on the site. Water is sent to the trailer through influent transfer pumps and passes through a chemical injection system using HaloKlear LiquiFloc 1% and LBP-2101 flocculants allowing for precise targeting of turbidity. As both polymers are mixed with clay-contaminated water, the charged suspended solids flocculate to form larger particles. The treatment stream then carries these larger particles to the system's physical filtration components. Injection rates and flocculation abilities are monitored by the SRS and fine-tuned by the centralized programmable logic controller (PLC) to match both influent flow rate and turbidity entering the system. The influent water turbidity at this site ranges from as low as 75 NTU – a slight tinge shown in water, to above 1,200 NTU with a visually cloudy level of sediment present. ProAct's SRS systems and HaloKlear's Natural Flocculants were selected as the optimal treatment for this site to minimize potential environmental harm. These units include all essential water treatment elements housed in a single trailer with few external accessories for producing clear water, to meet discharge water turbidity requirements below 50 NTU.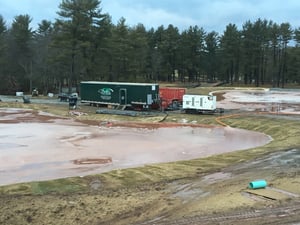 As an additional caution, turbidity measurements automate the system's
discharge control, as water meeting the required discharge standard of 50 NTU to designated site locations. Should water not meet discharge criteria, recirculation mode is automatically triggered. These and other sensors within the system aid in system troubleshooting and operational correction.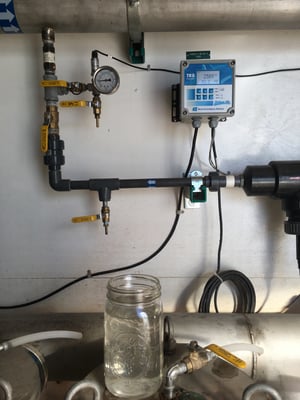 Water accumulated on site is maintained within required levels of retention ponds present on site, and construction progress on site has seen the opening of the first of the many elements in construction at the Resorts World property. The discharge standards for this project were achieved in great part by the cooperative work of ProAct's SRS systems and HaloKlear's Natural Flocculants.
To read more case studies like this one, click below to visit our website.