INTERN VIEW: Balsa River Hydroelectric Project
---
Having learned some technical information about the water treatment products, I decided I wanted to know more about their field applications. After looking through some case studies, I decided that I would focus on one in particular. The Balsa Inferior Hydroelectric Project on the Balsa River in Alajuela, Costa Rica caught my eye because the focus of my major is in energy, water, and environmental sustainability. This project highlights the cross section of all three aspects.
The Balsa Inferior Hydroelectric plant was completed in 2014 and is currently in operation as a 38 megawatt powerplant. This plant generates electricity by taking water down a 4 km tunnel into a set of turbines. After passing through the turbines, this system returns the water into the Balsa river. Dober was brought in to solve the problem of reducing the sediment load on all soil types while maintaining eco-friendliness.
To achieve maximum results, HaloKlear's Dual Product System was implemented in two different treatment schemes.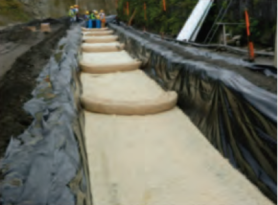 1. Passive Treatment- the DPS was deployed on matting of lined treatment channel.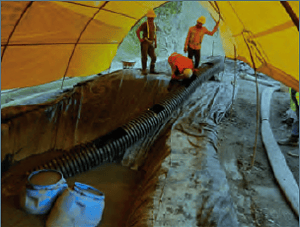 2. Semi-Passive Treatment- DPS socks were deployed in corrugated pipes at the inlet of the treatment channel that was modified to be a deep settling area to add more sediment capacity.
Because of the rainforest ecosystem in Costa Rica, the heavy rainfall creates a total sediment volume 30 times larger and dewatering flow rates 10 times larger than the original design specification. To reduce their impact on the sensitive marine environment, a reduction of suspended solids by 80% needed to be achieved. Before project completion, the suspended solids in the discharge stream were reduced by 60-70%, and once final modifications were made to the system and the project attained the goal of 80% solids reduction.
Before and after photos of the Balsa River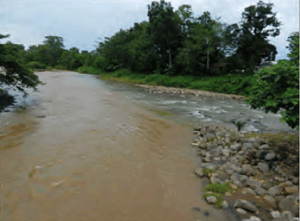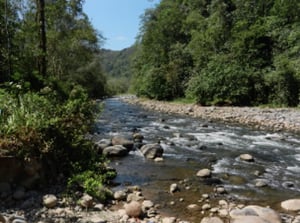 This water treatment system now prevents anywhere from 30 to 35 cubic meters of sediment from entering the Balsa River every day. That's an average of 80,000 pounds of sediment! Imagine how polluted that ecosystem would be had that entered into the river. The before and after pictures show the amazing things that chemistry, especially natural chemistry, can do.
---
MY MAIN TAKEAWAYS:
Nothing really compares to seeing science in action. The impressive results seen from this challenging situation show how well designed these products and systems are. Hearing about projects like these is one of the reasons why I study engineering: to improve the environment using science.
To read more post like this, subscribe below:
---