Poor DAF performance usually results in solids carry over which can cause increased surcharge cost and possibly discharge violations as well. The single biggest reason for DAF failure is poor dissolved or "white water" quality which is the mechanism for water/solids separation. Improper air pressures and recycle flows are typically the main culprits. Improper chemical selection and or dosage can impact DAF performance as well through the production of microfloc instead of macrofloc. The larger the floc particle the more surface area for the air to attach itself to and therefore more effective solids separation is achieved.
Sludge Build-Up
Sludge is a by-product of treating suspended solids and colloidal suspension. It is a collection of the solids, typically on the bottom of the treatment system. If there is too much sludge in any of the treatment equipment, the equipment will have to be turned off and sludge needs to be manually removed, which equates to wasted time and money. A build-up of sludge in a DAF system that is too thick of a blanket can result in solids carry over, and decrease the effectiveness of the DAF.
---
---
Product Quality
This is especially important for the food and beverage industry and oil and gas industry. If the wrong chemicals are being used to treat wastewater, specifically water that is intended to be re-used throughout production, this can affect the overall quality of the produced items. In the food and beverage industry, if still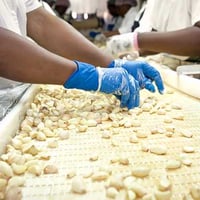 contaminated water is used to produce food, then that food will not meet quality standards and will thus result in money lost. Similarly, if crude oil is not completely dehydrated, then it cannot be put through the refineries, resulting in delays and potential waste of precious fossil fuels.
Water Re-Use
Since water is a charged resource for facilities, it is imperative to be able to re-use the water that is already in the plant. One example of this is in industrial paint spray booth systems. The water must be treated before it can be recycled. If it is not treated properly, then this can effect the product quality, as well as effecting the equipment since contaminated water is running through the systems.
Oil Sheen
An oil sheen on discharged water can mean shutting down production until the sheen is removed. Thus, is it especially important for manufactures, specifically in the primary metals and oil and gas industries, to act in preventing the formation of the sheen.